Learning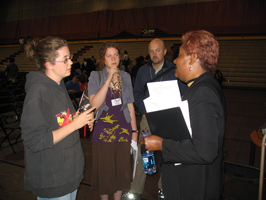 Taking the pledge means making a commitment to learn more about race, racism, and anti-racism.
There is a lot for each of us to learn. We can learn from:
Reading - on this site
Reading other sources
There are many novels and non-fiction books and articles that you might find interesting. If you want help finding good reading matter, a teacher or local librarian can probably help you.
(We invite recommendations for appropriate readings from our participants.)
Links to other web sites
By listening to others
By thinking (or writing) about situations from the perspective of race
Your school, your friendships, the news, and TV are some of the many situations you could reflect on
The italicized questions in the Helpful Perspectives on Race and Racism section are good ones to think or write about
Movies
Not everyone will agree about which movies teach good information, but we invite recommendations from our participants. What movies do you think we should recommend to young people to help them learn more about race and racism?
What other sources of information and learning would you suggest? Please write to us.
Back to: Action on the Pledge